Allendale COVID-19 Information
Where can I get vaccinated?
The following providers are available to schedule an appointment:
Allendale County Hospital
1787 Allendale Fairfax Highway
Fairfax, South Carolina 29827
(803) 632-3311
Walgreens Pharmacy
Vaccine manufacturer: Pfizer
137 South Main Street
(803) 584-7735
Allendale County Health Department
Vaccine manufacturer: MOD, JJ
571 Memorial Ave N
1-866-365-8110
CVS Pharmacy
Vaccine manufacturer: Pfizer
707 Elm St E
Hampton, SC 29924
Or  call the COVID-19 Vaccine Information Line
at 1-866-365-8110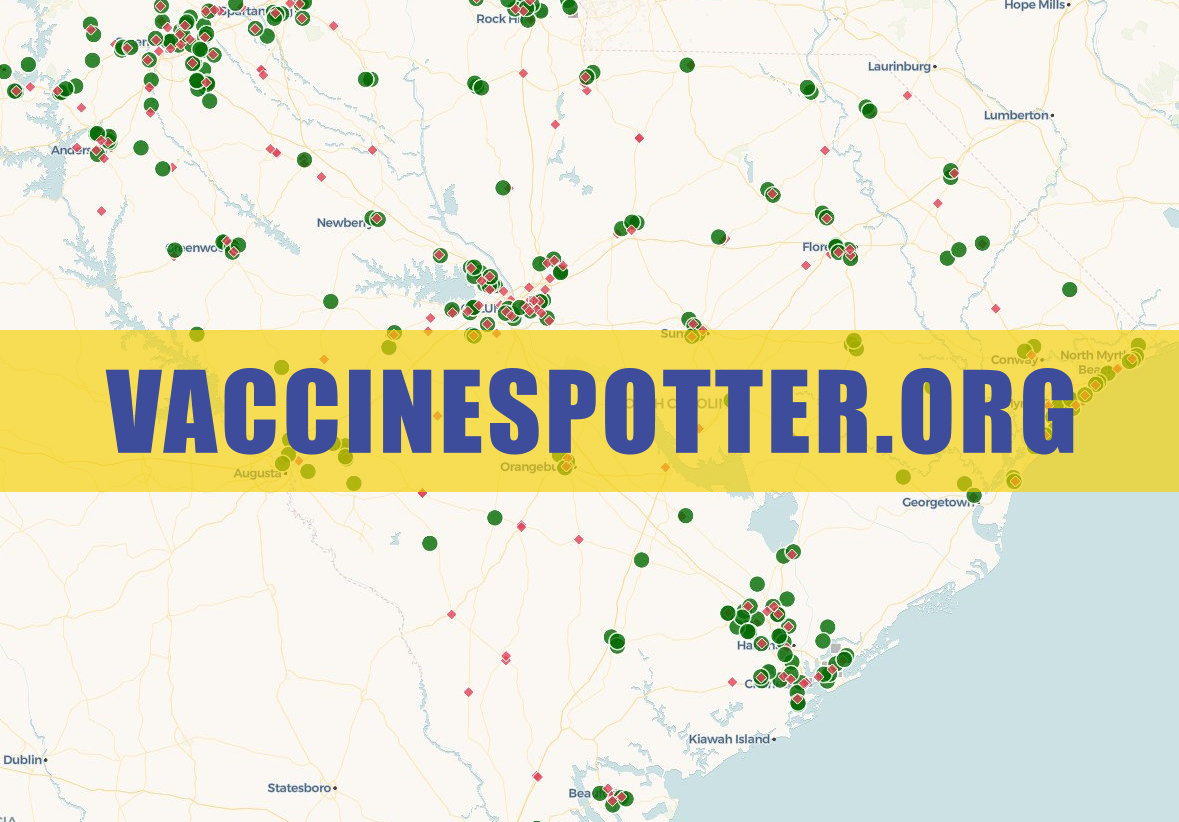 VACCINE Questions & Answers
Who can get vaccinated?
All South Carolinians 16 and older can get vaccinated for free
Why Should I Get Vaccinated?
Vaccines are the best protection we have against serious illnesses. They protect us from diseases by teaching our immune systems how to fight viruses and infections — without actually getting sick from the disease. COVID can have serious and life-threatening complications, which is why it's important for everyone to get vaccinated.
Different COVID Vaccines
The best COVID-19 vaccine is the first one that is available to you. Do not wait for a specific brand. All vaccines are safe, effective, and reduce your risk of severe illness.
Do I need proof of citizenship?
You do not have to be a US citizen to receive a COVID-19 vaccine
Will delaying my second shot change its effectiveness?
The CDC says that you can delay your second dose up to 42 days after the first dose
How long does it take to be fully protected against the virus after being vaccinated?
2 weeks after your second shot, and for the one-dose Johnson&Johnson vaccine you will be fully protected 2 weeks after your shot.
If I already had COVID, should I still get vaccinated?
Yes, you should be vaccinated regardless of whether you already had COVID-19. You are temporarily protected from getting sick again after recovering from the virus, but we don't know for how long. 
What if I have an underlying health condition?
People with underlying medical conditions can receive the vaccine, and in fact, vaccination is especially important for adults of any age with certain underlying medical conditions, like diabetes and high blood pressure, because they are at increased risk for severe illness from COVID-19.
People at Increased Risk for Severe Illness
Some people are more likely than others to become severely ill, including:
Older Adults
Pregnancy
Cancer
Chronic kidney disease
Chronic lung diseases, including COPD (chronic obstructive pulmonary disease), asthma (moderate-to-severe), interstitial lung disease, cystic fibrosis, and pulmonary hypertension
Dementia or other neurological conditions
Diabetes (type 1 or type 2)
Heart conditions
HIV infection
Weakened immune system
Liver disease
Being overweight/obesity
Sickle cell disease or Thalassemia
Smoking, current or former
organ or blood stem cell transplant
Stroke or cerebrovascular disease, which affects blood flow to the brain
Substance use disorders, such as alcohol, opioid, or cocaine use disorder
Common side effects after getting vaccinated:
On the arm where you got the shot:
            Pain
            Redness
            Swelling
Throughout the rest of your body:
            Tiredness
            Headache
            Muscle pain
            Chills
            Fever
            Nausea
To reduce pain and discomfort where you got the shot:
            Apply a clean, cool, wet washcloth over the area.
            Use or exercise your arm.
            Drink plenty of fluids.
Some people have no side effects. After you get the vaccine, you will be asked to stay for 15–30 minutes so you can be observed in case you have an allergic reaction and need treatment in the rare case it is needed.
How do the vaccines work?
When we get a vaccine, it activates our immune response. This helps our bodies learn to fight off the virus without the danger of an actual infection. If we are exposed to the virus in the future, our immune system "remembers" how to fight it.
The Moderna and Pfizer vaccines use messenger RNA, or mRNA. mRNA vaccines do not contain a live virus — they give our bodies "instructions" for how to make and fight the harmless spike-shaped proteins that will protect against a COVID-19 infection. The Johnson & Johnson vaccine is a viral vector vaccine and also does not contain a live virus. It uses a harmless adenovirus to create a spike protein that the immune system responds to, creating antibodies to protect against COVID-19.
How long before I am fully protected from getting or spreading the virus?
It takes time for your body to build protection after any vaccination. People are considered fully vaccinated two weeks after their second shot of the Pfizer-BioNTech or Moderna COVID-19 vaccine, or two weeks after the single-dose J&J/Janssen COVID-19 vaccine. You should keep using all the tools available to protect yourself and others until you are fully vaccinated.
How is the virus spread?
COVID-19 is spread mainly through close contact from person to person, including between people who are physically near each other (within about 6 feet). People who are infected but do not show symptoms can also spread the virus to others
Important Ways to Slow the Spread
What happens to people who get COVID-19?
Among those who develop symptoms, most (about 80%) recover from the disease without needing hospital treatment. About 15% become seriously ill and require oxygen and 5% become critically ill and need intensive care. Complications leading to death may include respiratory failure, acute respiratory distress syndrome (ARDS), sepsis and septic shock, thromboembolism, and/or multiorgan failure, including injury of the heart, liver or kidneys.
Be alert for symptoms of the virus
Watch for fever, cough, shortness of breath, or other symptomsof the virus
This is especially important if you are running essential errands, going into the office or workplace, and in settings where it may be difficult to keep a physical distance of 6 feet.
Take your temperature if symptoms develop
Don't take your temperature within 30 minutes of exercising or after taking medications that could lower your temperature, like acetaminophen
What are the symptoms of COVID-19?
The most common symptoms are:
Fever
Dry cough
Fatigue
Other symptoms that are less common and may affect some patients include:
Loss of taste or smell,
Nasal congestion,
Conjunctivitis (also known as red eyes)
Sore throat,
Headache,
Muscle or joint pain,
Different types of skin rash,
Nausea or vomiting,
Diarrhea,
Chills or dizziness.
Symptoms of SEVERE COVID include:
Shortness of breath,
Loss of appetite,
Confusion,
Persistent pain or pressure in the chest,
High temperature (above 38 °C).
Other less common symptoms are:
Irritability,
Confusion,
Reduced consciousness (sometimes associated with seizures),
Anxiety,
Depression,
Sleep disorders,
More severe and rare neurological complications such as strokes, brain inflammation, delirium and nerve damage.
People of all ages who experience fever and/or cough associated with difficulty breathing or shortness of breath, chest pain or pressure, or loss of speech or movement should seek medical care immediately.
Get Tested
If you have symptoms of COVID-19, get tested. While waiting for test results, stay away from others, including staying apart from those living in your household.
Are there long-term effects of COVID-19?
Some people who have had COVID-19, whether they have needed hospitalization or not, continue to experience symptoms, including fatigue, respiratory and neurological symptoms.

Are antibiotics effective in preventing or treating COVID-19?
Antibiotics do not work against viruses; they only work on bacterial infections. COVID-19 is caused by a virus, so antibiotics do not work. Antibiotics should not be used as a means of prevention or treatment of COVID-19
How long does it take to develop symptoms?
The time from exposure to COVID-19 to the moment when symptoms begin is, on average, 5-6 days and can range from 1-14 days. This is why people who have been exposed to the virus are advised to remain at home and stay away from others, for 14 days, in order to prevent the spread of the virus, especially where testing is not easily available.
Steps to help prevent the spread of COVID-19 if you test positive or are sick
If you are sick with COVID-19 or think you might have COVID-19, follow the steps below to care for yourself and to help protect other people in your home and community:
wear a mask over your nose and mouth. You don't need to wear the mask if you are alone. If you can't put on a mask (because of trouble breathing, for example), cover your coughs and sneezes in some other way. Try to stay at least 6 feet away from other people.
Stay home. Most people with COVID-19 have mild illness and can recover at home without medical care. Do not leave your home, except to get medical care. Do not visit public areas.
Take care of yourself. Get rest and stay hydrated. Take over-the-counter medicines, such as acetaminophen, to help you feel better.
Tell your close contactsthat they may have been exposed to COVID-19. An infected person can spread COVID-19 starting 48 hours (or 2 days) before the person has any symptoms or tests positive. By letting your close contacts know they may have been exposed to COVID-19, you are helping to protect everyone.
Immediately wash your hands with soap and water for at least 20 seconds. If soap and water are not available, clean your hands with an alcohol-based hand sanitizer
Clean your hands often
Avoid touching your eyes, nose, and mouth with unwashed hands.
Avoid sharing personal household items
Do not share dishes, drinking glasses, cups, eating utensils, towels, or bedding with other people in your home.
Clean and disinfect high-touch surfaces in your "sick room" and bathroom; wear disposable gloves. High-touch surfaces include phones, remote controls, counters, tabletops, doorknobs, bathroom fixtures, toilets, keyboards, tablets, and bedside tables.